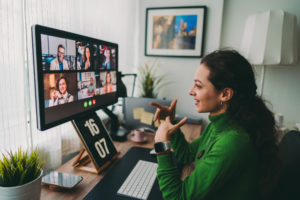 Recruitment, Retention + Employee Commute Pain & Hybrid Work Top Oregon Employer Priorities, Survey Says
Get There Oregon
April 2022
"Commute pain"—the stress and hassle of the commute— was revealed in a survey as a top priority for employers relative to recruitment and retention, followed by supporting remote work. Get There Oregon conducted an online survey among HR professionals in the first quarter of 2022 to gauge top operations and workforce issues and to determine how employee commute concerns rate as priorities for organizations.
The Future of Work and Reinventing the Status Quo
Oregon Business Magazine
March 2021
Until 2020, many questioned if remote work was worthwhile or even possible. Yet, it succeeded with minimal preparation, busting myths and illuminating new possibilities for how we work. Get There takes an in-depth look into the lessons 2020 taught us about remote work and rethinking work and what's next for managers and workers. We tapped Global Workplace Analytics, a national consultancy specializing in modernizing workplace strategies, to breakdown how ardently held remote work myths around productivity, connectivity, and culture are being dispelled as a new status quo for how, when, and where work gets done takes shape.
Oregon Business Magazine
September 2020
Amid the myriad of factors impacting business performance is one pivotal cornerstone upon which success heavily depends: the employee. Get insights on powering up employee experience to boost productivity and agility, leveraging gamification and the October Get There Challenge.
Digital Business and Traffic Reduction
Oregon Business Magazine
July/August 2020
COVID-19 has triggered a digital business evolution across all types of industries. New business possibilities for going beyond business as usual are being revealed that offer an array of benefits—even lessening traffic through the trip not taken. Get insights on digital business strategies from Providence Health & Services in this month's Get There story featured in Oregon Business Magazine.
The Future of Remote Work and Digital Business Transformation
Oregon Business Magazine
June 2020
Tap into insights from Comcast and Deloitte on leveraging remote work to fuel your organization's performance and growth in this month's Get There story featured in Oregon Business Magazine. Remote work, they say, can help foster a workplace culture that puts businesses ahead on delivery, innovation, and recruiting top talent.
The Economics of Traffic and Shifting Business Norms
Oregon Business Magazine
May 2020
COVID-19 has caused a lot of disruption, but it's illuminated the advantages of new business norms like remote work. ODOT's Get There initiative dives into how new mindsets and practices enable businesses to boost productivity, reduce costs and grow. Plus, senior economists with ECONorthwest breakdown the economic and business costs of traffic congestion driven by population and job growth.