Long Trip? No Problem.
Join a vanpool and make your commute better by sharing the cost. If you have a longer commute (typically 20+ miles), vanpooling is a great option. Vanpools let you share the load of your commute with a large group (typically 5-15 people). Join or start a vanpool and enjoy some of these benefits: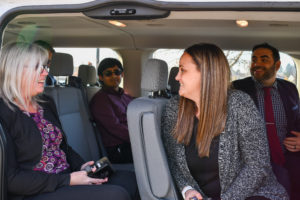 Save money and reduce your emissions: When you vanpool, it makes saving money and reducing carbon emissions easy. By splitting the costs between 5 to 15 members, you'll be driving less and saving more!
Enjoy some "me time": With a large group sharing the responsibility of driving, it gives you more time to do the things that you enjoy while on your way to work. Scroll social media, play a game, talk with your fellow vanpoolers, or just sit back and relax.
In a vanpool, the costs are shared between the members, and participants may take on driving or coordination duties for a discount on their share of the costs. The most common vanpool arrangements are coordinated through public programs, or third party vendors that provide services to employers or individual commuters.
Tools & Resources
Use Get There Connect to find an existing vanpool in Oregon, or check out the list below for links and information about vendors and public vanpool programs:
Commute with Enterprise provides vanpool services to employers and individual commuters throughout Oregon. Commute with Enterprise can help employers and commuters set up or join a vanpool, provide resources and information about available subsidies, and assist with recruiting riders when needed.
C-TRAN provides vanpool services for trips beginning or ending in Washington state, including trips across the state line. They serve commuters traveling at least 10 miles in each direction and at least one end of the commute must begin or end in Clark or Yacolt counties.

Vanpool Coordination Handbook: Are you looking for tips for starting a vanpool or keeping it rolling smoothly? Download the Vanpool Coordination Handbook to learn what successful vanpools have in common and what support is available to help.
Commuter Vanpool Webinar with Enterprise: Learn all about how vanpooling works, how to search for a vanpool in Get There Connect, free vanpooling resources from Commute with Enterprise, and how to talk with your employer about supporting vanpooling.