Let Someone Else Do the Driving-Take Transit to Save More
Sit back, relax, and enjoy the ride with your local public transit agency!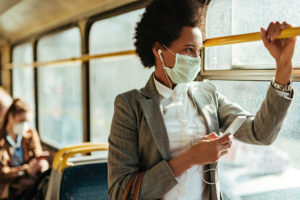 Spend less and reduce emissions: Save money on gas and car repairs, and help reduce CO2 by sharing the ride on transit.
Get some YOU time: Taking transit allows you to enjoy your trip by taking you out of the driver's seat. Relax with a book or podcast, play video games, scroll social media, or maybe even just enjoy the sights around you as you get driven to your destination.
Transit service varies around the state, so check out our tips and resources below to help you make your commute better.
Tips & Tricks
Don't live next to a transit center or bus stop? Use Get There Connect to find a park and ride, or bike or walk to your nearest connecting transit line.
Visit your local transit provider's website for schedules, service announcements, and payment information.
Plan your trip ahead of time and give yourself a buffer if you have a time-sensitive appointment!
The bus driver is there to help you. If you have a question, ask!
Be considerate of other riders by using headphones and limiting phone calls.
If your local transit agency offers real-time arrival information, find out how to access it, so you can be sure exactly when the bus will arrive!
Tools & Resources
Get There Connect – Find the fastest transit routes, log your trips to see how much you're saving and more.
Google Maps – Great for trip planning and real-time arrival information.