Skip Traffic & Walk There!
Walking is a healthy and environmentally friendly way to get to work. If walking is an option for you, check out the resources below and start enjoying the many benefits, including: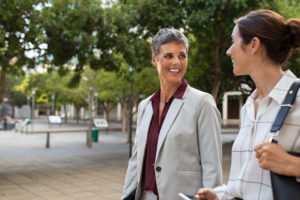 Reduced stress: Walking, like any form of exercise, can have great impacts on your levels of stress and is a great way to get outside in sunlight!
Improved health: The American Heart Association reports that walking can lower cholesterol, improve bone density, prevent weight gain, and increase your energy. They recommend about 30 minutes of walking a day.
Money saved: Walking is a great way to cut down on the costs regularly associated with commuting. No need to pay for parking or gas! Use Get There Connect to log your walks for commuting, errands and more to see how much money you're saving!
Tips & Tricks
Wear comfortable shoes for walking and pack your dress shoes if needed.
See and be seen. Wear bright clothes and reflectors on your bags or clothes. Pack a flashlight or blinking light for dark areas. 
When crossing unmarked crosswalks, make eye contact to be sure drivers see you. In Oregon, every intersection is a crosswalk and it is the law that cars stop for you but make sure they notice you before stepping into the street.
Use sidewalks and trails where possible. If no sidewalks are available, walk facing road traffic so your eyes and ears can help you know what's coming.
Check the weather forecast the night before to figure out what to wear and what to bring 
Pair your walk with a bus trip to get there quicker.
Tools & Resources