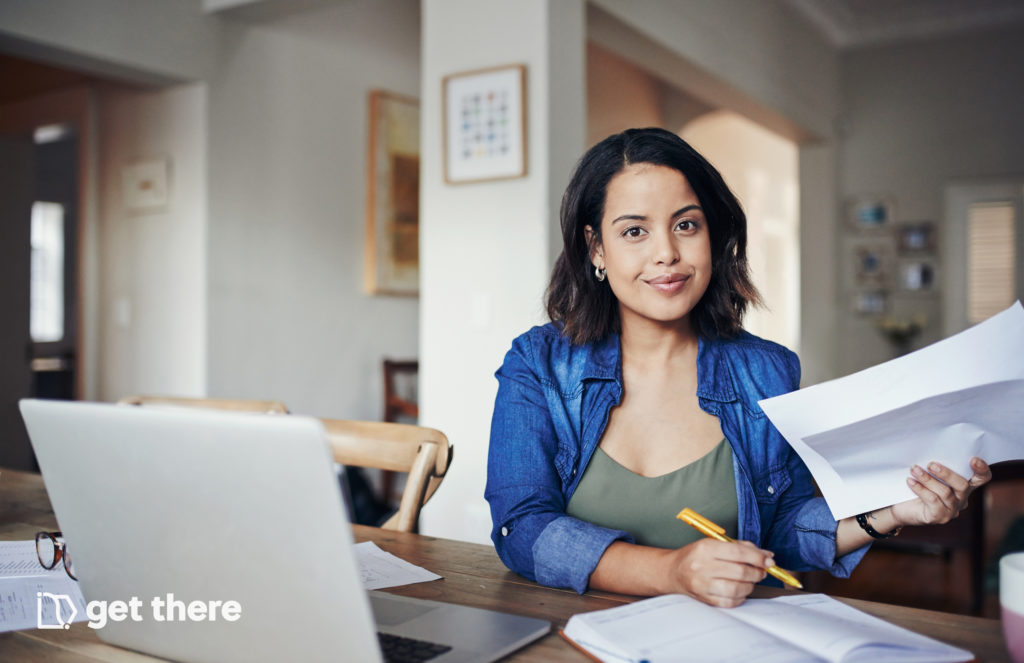 Power up your employee experience, boost productivity, reduce costs, and recruit and retain top talent. Be a voice to propel innovation, drive performance, and promote sustainable economic growth across Oregon.
Tap into the Get There Business Network!
Tell your story. We're looking for HR and business managers and others to share tips, strategies, and successes as part of Get There's ongoing communications, including in our Oregon Business Magazine story series. Email [email protected]
Get There Business Stories
The Future of Work and Reinventing the Status Quo
Oregon Business Magazine
March 2021
Until 2020, many questioned if remote work was worthwhile or even possible. Yet, it succeeded with minimal preparation, busting myths and illuminating new possibilities for how we work. Get There takes an in-depth look into the lessons 2020 taught us about remote work and rethinking work and what's next for managers and workers. We tapped Global Workplace Analytics, a national consultancy specializing in modernizing workplace strategies, to breakdown how ardently held remote work myths around productivity, connectivity, and culture are being dispelled as a new status quo for how, when, and where work gets done takes shape.
Oregon Business Magazine
September 2020
Amid the myriad of factors impacting business performance is one pivotal cornerstone upon which success heavily depends: the employee. Get insights on powering up employee experience to boost productivity and agility, leveraging gamification and the October Get There Challenge.
Digital Business and Traffic Reduction
Oregon Business Magazine
July/August 2020
COVID-19 has triggered a digital business evolution across all types of industries. New business possibilities for going beyond business as usual are being revealed that offer an array of benefits—even lessening traffic through the trip not taken. Get insights on digital business strategies from Providence Health & Services in this month's Get There story featured in Oregon Business Magazine.
The Future of Remote Work and Digital Business Transformation
Oregon Business Magazine
June 2020 
Tap into insights from Comcast and Deloitte on leveraging remote work to fuel your organization's performance and growth in this month's Get There story featured in Oregon Business Magazine. Remote work, they say, can help foster a workplace culture that puts businesses ahead on delivery, innovation, and recruiting top talent.
The Economics of Traffic and Shifting Business Norms
Oregon Business Magazine
May 2020 
COVID-19 has caused a lot of disruption, but it's illuminated the advantages of new business norms like remote work. ODOT's Get There initiative dives into how new mindsets and practices enable businesses to boost productivity, reduce costs and grow. Plus, senior economists with ECONorthwest breakdown the economic and business costs of traffic congestion driven by population and job growth.
Many organizations rapidly shifted to remote work due to the COVID-19 pandemic. After seeing remote work benefits, including increased productivity and job satisfaction among employees, companies are now looking to make hybrid remote work long-term and company-wide.
Employers can use this toolkit to establish a foundation for effective teamwork and continued productivity in a remote work environment, provide tips for employees, and create formal policies and agreements.  
Customized Get There Employer Networks are available for free to employers throughout the state of Oregon. Organizations of all sizes and types (e.g., for profit, nonprofit, state agencies, etc.) can start one. With a network, commuters can find transportation solutions that improve morale, productivity, recruiting and retention and more! Employer Networks allow employers to offer commuter incentives and host challenges, plus track your organization's savings and carbon emissions reductions.
Contact [email protected] or call 503-200-3280 to set up a free network for your organization.
The Federal tax code allows the use of tax-free dollars to pay for transit commuting and parking costs through employer-sponsored programs. Commuter tax benefits are regulated by the Internal Revenue Code, Section 132(f)—Qualified Transportation Fringe.
The tax code allows tax-free transportation fringe benefits of up to $270 per month per employee for transit expenses and up to $270 per month for qualified parking. Qualified parking is defined as parking at or near an employer's worksite, or at a facility from which employee commutes via transit, vanpool or carpool. Commuters can receive both the transit and parking benefits.
Companies can offer:
A tax-free employer-paid subsidy
A pre-tax employee-paid payroll deduction
A combination of both of the above
Employee Savings
Employees who set aside income on a pre-tax basis for a qualified transportation fringe benefit do not pay federal income or payroll taxes on the income set aside. For example, if you have a combined (local, state, federal) tax rate of 40% and spend $130 per month on public transportation fares, you will save more than $600 per year. Qualified parking adds even more savings. If an employer chooses instead to subsidize the benefit it is actually more valuable than an equivalent raise because of the tax advantages.
Employer Savings
Providing pre-tax commuter tax benefits to employees can save payroll taxes for employers.  The value of the benefit paid to employees is considered a tax-free transportation fringe benefit and not wage or salary compensation, therefore, payroll taxes do not apply.  Employers can save roughly 7.5% in payroll taxes on the amount employees set aside.  If the employer chooses to offer the benefit in addition to the employee's monthly salary, giving an employee $255 in transit benefits is less expensive for an employer than increasing the employee's salary by $255.
Employers across Oregon have found that offering transportation benefits and strong commuter support systems can help with employee recruitment and retention. Investing in employees' physical and financial health and well-being will save employers time and money in the long run.
Implementing and sustaining employee transportation programs can be easy if you have the right tools. This toolkit is meant to provide guidance and support to those interested in creating an employer transportation program or as a reference for evaluating or improving existing programs.
People in the following roles may find this toolkit most helpful:
Employee transportation coordinator (ETC)
Human resources (HR) representative
Facilities or parking management representative
Business owners
Sustainability program representative
Transportation enthusiast
Anyone interested in employee wellness or transportation options