Working Together to Prevent the Spread of COVID-19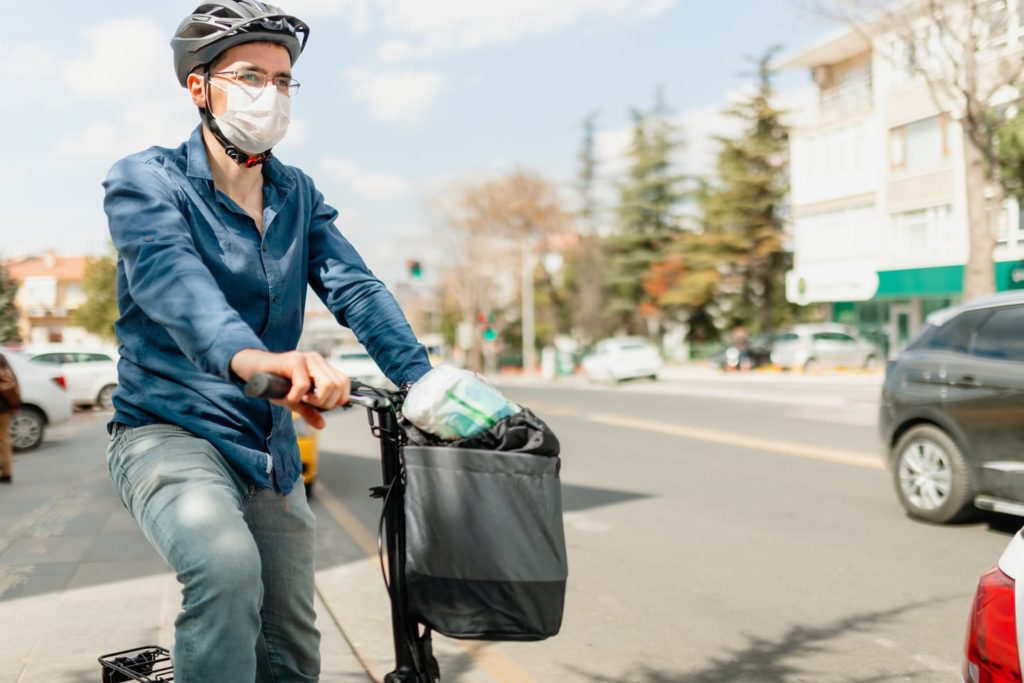 To prevent the spread of COVID-19, we all need to work together. If you must make essential trips by transit, carpool, vanpool, foot, or bike, below are safety tips and resources: 
Visit the CDC website for the latest information on how to protect yourself and others, what to do if you or a family member feel sick, or if you believe you may have been exposed to the virus. For the latest on the State of Oregon's response to the virus, visit the State's COVID-19 resource page.
Carpooling and Vanpooling Tips
Use disinfectant wipes and spray to clean vehicles and carry hand sanitizer. Before and after the commute, we recommend you wipe down vehicle surface areas, including door handles (inside and out), steering wheel, armrests, seatbelts/seatbelt buckles, seats, and knobs (including climate control, radio, glove box, etc.). Keys and cards used to pay for gas should also be wiped down.

Limit the number of passengers in your vehicle as much as possible.

Riders should keep their distance by sitting in the backseat if possible.

Share your commute with only specific networks if you only want to carpool with coworkers or specified groups.
Valley Vanpool Tips
If your vanpool group is missing a driver or needs to be parked for an unknown period of time (more than one week) due to employer-requested telecommute or illness, please send an email to [email protected] and provide a short description of your situation. We will work with your group to explore available options.
Walking and Biking Tips
Be aware and be alert: Even though there are fewer drivers on the road, there are reports of increased speeding.

Respect the 6' buffer:

Walkers: When passing other pedestrians on the sidewalk, cross the street at the corner or a painted crosswalk when you are able to do it safely. On quiet neighborhood roads, you may be able to step into the street to pass. Please look both ways and only step into the street when it is safe to do so. 

Bikers: Look over your shoulder for approaching traffic and pass people walking or biking on the left. Use your voice or a bell to let people know you are coming and avoid surprising people. If the person you are passing does not appear to hear your voice or bell, slow down and pass with caution. 

Yield to the elderly, people with disabilities, or people with kids, dogs, or cargo. Ensure the 6' buffer when passing.
Transit Tips
Please also check your local transit agency's website or call them for updates.
Concern regarding public transportation is understandable during this time. Stay home if you can, but for essential trips by transit, use the same precautions you would for all travel. Check your local transit provider website for schedule updates. The CDC recommends the following:
Stay home if you're sick.

Avoid close contact. Practice 6 feet social distancing between other riders and transit driver, if possible.

Clean your hands often. Wash vigorously with soap and water for 20 seconds or use hand sanitizer if soap and water is not available. Avoid touching your eyes, nose, and mouth with unwashed hands.

Cover coughs and sneezes.
Please only take transit if necessary and try to maintain 6 feet of distance from other people and the operator if you do ride. Many buses and trains are running to transport medical staff, first responders, and other essential workers where they need to go. By avoiding unnecessary trips, you're helping give them the space they need to ride safely. ​